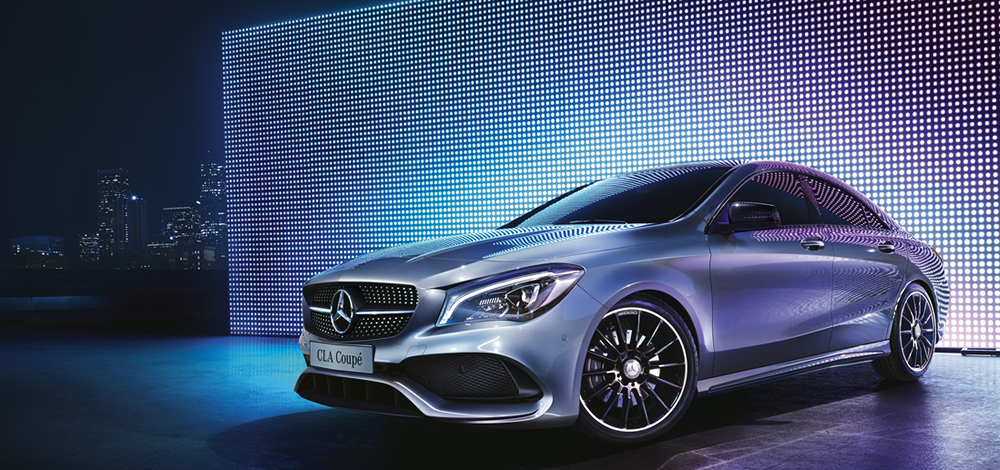 High class European design will make you feel like you're driving a limousine and leave all of your customer wanting to give you five star reviews.
The CLA Coupé is the result of an innovative and fresh design concept from Mercedes-Benz.

Design – nothing is more attractive than character
The unusually striking lines together with the surfaces curved both inwards and outwards give the new CLA its avantgarde, sporty character.
Typical for a coupé are its windows: frameless or framed in chrome or high-sheen black (depending on equipment), they bestow upon the vehicle a special air of elegance and class.
The roofline sweeps gently into the rear end, where the bumper with integral tailpipes and the striking spoiler lip provide an irresistible finale. Literally a highlight: the characteristic shape of the rear lights.

Interior comfort – spoiled with style
Take your seat – a very special seat: integral-look sports seats as standard in both the front and rear gives perfect support to all occupants. The air vents will make you think of a jet engine. The instrument cluster in twin-tube design with luminous red touches gives the interior a striking look and feel. The 3-spoke multifunction steering wheel also catches the eye.

Mercedes-Benz Intelligent Drive
What we started with PRE-SAFE® more than ten years ago and continued with Distance Pilot DISTRONIC, has today been advanced to a new dimension in driving: Mercedes-Benz Intelligent Drive – comfort and safety have now been fused. You can see it and feel it in the new CLA Coupé.

Safety – at the heart of all our thinking
The Integral Safety Concept from Mercedes-Benz divides vehicle safety into four phases:
Virtually no other area inspires the Mercedes-Benz engineers to produce such consistently impressive results as much as research into new safety technologies. The first important safety milestone was reached back in the 1950s with the development of the passenger safety cell, invented by Béla Barényi.
Today it is just one of many components of the Integral Safety Concept which edges Mercedes-Benz vehicles ever closer to our vision of accident-free driving.