Uber Marketplace
Around 25% of people who apply to drive for Uber unfortunately fail to qualify purely because their vehicle doesn't pass necessary points.
Uber Marketplace has been designed by Uber to enable their driver partners another way. Uber have developed Uber Marketplace as a central location for their driver partners to find a vehicle solution for themselves so they will be able to qualify and drive for them.
Whether the driver is looking for a car to rent or to buy Uber Marketplace directs them to several trusted partners. Keyz is one of the those preferred Partners. Keyz is a Queensland based start business that saw an opportunity to be able to help people earn money through the rising ride share industry.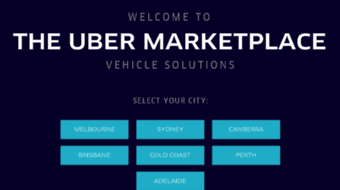 Operations Manager Scott Kerr said their goal was to supply brand new vehicles throughout all the categories that Uber offer such as Uber X, Uber Select and their latest Uber XL a 7 seat Option. Scott said that they agreements with major manufacturers in Kia, Mitsubishi, Hyundai and now for their Uber Select vehicle Mercedes-Benz.
Their rental pricing starts from $260 and goes up to $399 a week for the Mercedes C200 however Keyz mentioned that they also offer every vehicle through the range which meant their customers could request a rental amount on even on $160,000 Mercedes if they wanted to.